How it works at our assignment writing help service. How do our professional assignment writers compare to superheroes? They use their skills and expertise to benefit students and make the world a better place in terms of knowledge. That is what the AssignmentWritingPro platform does: it connects students with expert homework writers to help them achieve their academic goals.
You might be wondering, 'Should I outsource Assignment writing pro writing services?' It's human nature to spend money on valuable services. No one wants to waste money on mediocrity. AssignmentWritingPro guarantees high-quality services at affordable prices. Our professional assignment writers approach assignments with the utmost seriousness and professionalism. See the diagram below to see how our cheap assignment writing service works.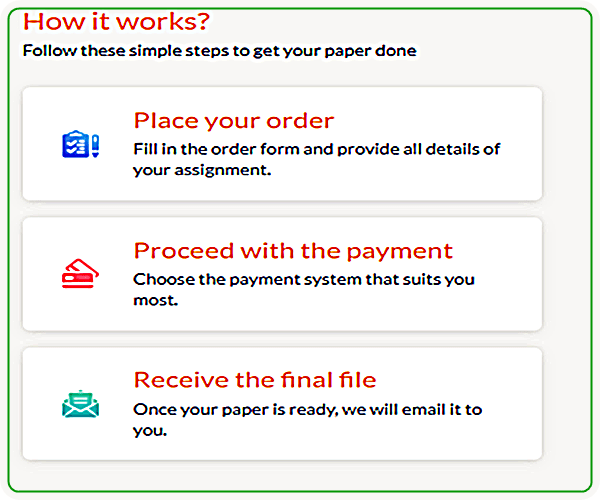 Step 1: Submit Your Paper Instructions
The first step in completing your task is to provide the required paper guidelines. The guidelines help us in delivering personalized services to our clients. Make sure to include all assignment help requirements, academic level, page count, format, and, most importantly, the deadline. Remember that our quality services depend on your instructions provided.
Step 2: Make Payment for Your Order
Our pricing system automatically generates the price as you click on the paper instructions. Once you complete filling in the instructions, proceed to the payment section. Making payments is the most critical part of the entire process—it is a signal that we should start working on your order.
Pay securely using your Stripe, PayPal account, or credit card. From here, you will leave the rest of the work to our able unemployed professors. You will keep in touch for further clarifications.
In case you find challenges with placing an order, do not hesitate to contact our live chat support staff. Our customer service is 24/7 available to provide assistance and guidance whenever the need arises.
Step 3: Order Assigned to a Writer
Once you place your order successfully, we analyze it in detail to identify the most suitable writer. AssignmentWritingPro has a pool of professionals with varied expertise in different disciplines. Therefore, we ensure to hand the order to a writer who is well versed in your field of study.
Our company is always keen on hiring assignment helpers. An eligible writer should possess at least a degree from a recognized institution. The applicants should subsequently demonstrate an ability to write high-quality papers within the shortest time possible. Most of our writers are genuine unemployed professors who have experience in various disciplines. We also use clients' feedback only to maintain competent writers. As a result, customer feedback indicates that we have maintained our leadership position.
Step 4: Receive and Review your Final paper
The assigned writer applies background knowledge and utilizes available research resources to do your assignment. We encourage our clients to provide additional reading materials for a more personalized assignment if need be. Once the task is done, our assignment editing help team proofread, we email it to you. You can also access the assignment file by logging in to your AssignmentWritingPro account. 
We understand that time is crucial in the learning process; consequently, we promise to keep the deadline. As soon as you receive your paper, we encourage you to check through it to ensure that it satisfies the order requirements. However, if it does not, which rarely happens, you can request a revision.
In a word, we have the most user-friendly assignment writing website. Placing an order is as straightforward as sending paper instructions, processing the payment, and waiting for the paper to be delivered. We assist you to pay little and save more without compromising the quality of the order. Unlike third-party websites that scam clients with cheap rates but deliver inadequate services to compensate for the expenses, we provide what we promise. We have been in the game for the last ten years and crowned among the best websites many times. So outsourcing us is worthwhile.